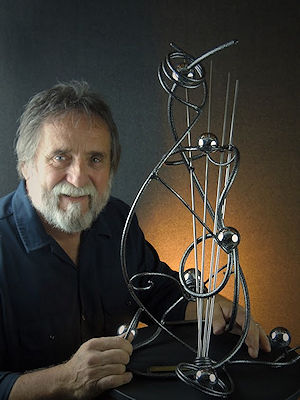 Gilbert McCann is married, has three children, and six grandchildren. He studied at Mott Community College, in Flint Michigan, and at Yavapai Community College in Prescott, Arizona. One of Gil's proudest accomplishments is the installation and dedication of one of his works, called Spike, in the city of Yuma, AZ during the celebration of ARTbeat5 2012. During the spring and summer of 2016, Gilbert had two exhibits of his work, the first being at the Shiawassee Art Council; the second at the Greater Flint Art Council. Currently he is working on various projects and commissions. In his spare time, Gil enjoys playing drums with his band, the Group Therapy Band of Flint, Michigan.
ARTIST STATEMENT
Throughout my life I have always been aware that I have a unique and unusual way of perceiving the world around me. I was blessed with a talent to express this through art. After the use of several mediums, I have found that metal holds the key to unlock my creativity.

Just as metal is strong and rigid, it can also be soft and pliable. And, with the right application, it can even be made to dance!

Please take a moment and join me on a journey through the movement, textures, colors and emotions of metal.

As I truly believe, my creations come from my heart, to my head, to my hands, to the world.