Collected Expressions
Three Sculptures By Gilbert McCann: Metal Sculptor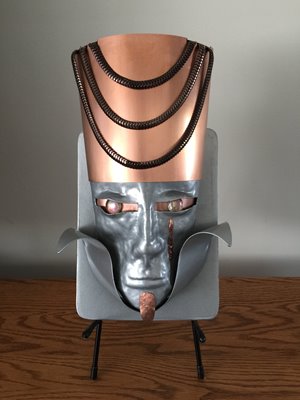 REGRET
The dictionary defines regret as a sadness associated with wrong done or disappointment; a wish that it had been different; looking back with dissatisfaction or longing; grief; sorrow on account of the loss of some joy, advantage, or satisfaction.
It can be a negative, conscious, emotional reaction to past acts and behaviors. Regret is often expressed by saying "sorry." Regret is often a feeling of shame, embarrassment, depression, or guilt. Regret can describe also, regret of inaction. Alexander Graham Bell said, "When one door closes another door opens; but we so often look so long and so regretfully upon the closed door, that we do not see the ones which open for us." Regret is a powerful emotion that is and will be experienced by all some time during their life.
Looking at this face one would wonder, what could a man like this have to regret? Did he, as his country's leader, involve them into a catastrophic war; did he, like so many others, want something not available to him; or did he just wish that he could live his life as a common man? I leave this question for you to ponder.
SPECIFICATIONS
Height: 13 inches
Width: 6.5 inches
Depth: 3.5 inches
MATERIALS
Steel, copper, glass, powder coat
STATUS
Available for purchase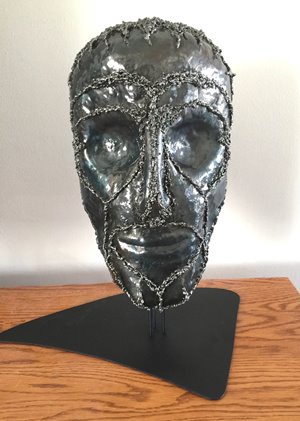 THE WARRIOR
The term "warrior" has two meanings. The first refers to "a man experienced in warfare." The second refers to "a person who shows great courage, or aggressiveness, as in politics or athletics." The "warrior" is often associated with images of power, confidence, accomplishment, integrity, honor. Some warriors throughout our history were Roman Centurions, Native American Indian Braves, Crusaders and the Japanese Samurai.
In our culture we think of many of these warriors as being honorable. The truth is somewhat less romantic. Given the darker side of human nature, it is common for some individuals, tribes, corporations and nations to use raiding, looting and plunder as a way to gaining wealth, power or even survival. However, warriors are generally admired.
Regardless of the moral or political correctness of a warrior; all warriors have a few basic things in common: They are disciplined; they develop mental focus; they are persistent; and they train.
My warrior comes from a very different culture than ours. He too has emotions. However, for his survival, he must remain stoic so those who follow him into battle are inspired by his strength.
SPECIFICATIONS
Height: 16 inches
Width: 15 inches
Depth: 10 inches
MATERIALS
Hammered and welded sheet metal; powder coated
STATUS
Sold; in the collection of Robert Goeckel DC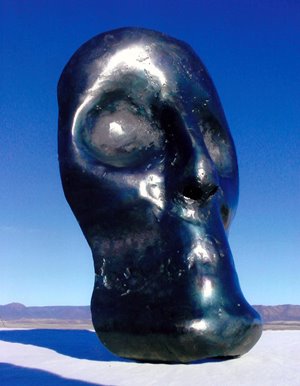 THE ANCIENT
The ancient is the death mask of an Easter Island king. Who was this person? What stories did he have to tell? Was he a warrior? Did he experience regret?
His stories are just a whisper in the wind, a ripple on the water, and the movement of a flame. But sadly only he could tells us what emotions drove his life.
SPECIFICATIONS
Height: 10 inches
Width: 6.5 inches
Depth: 5 inches
MATERIALS
Hammered and welded sheet metal
STATUS
Sold; in a private collection