"SPIKE" METAL SCULPTURE
By Gilbert McCann: Metal Sculptor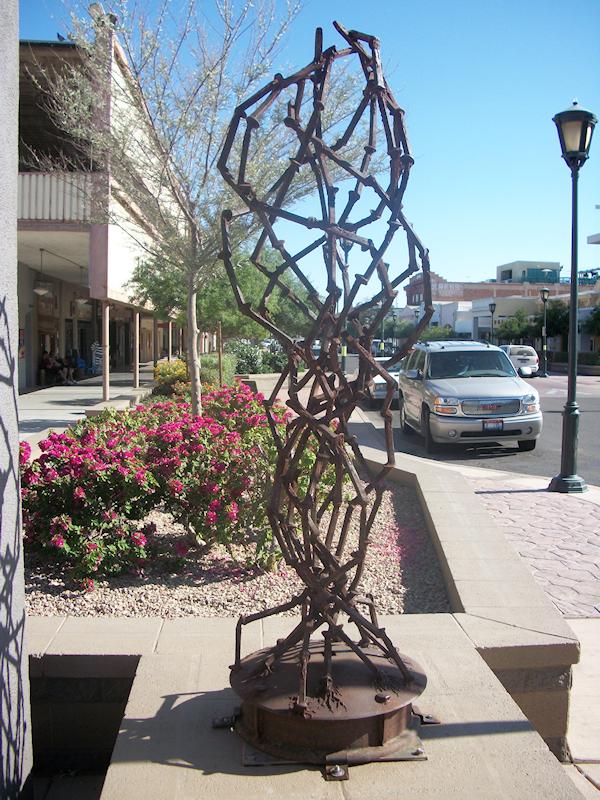 While I was attending an art welding course at Yavapi College my instructor announced there was a call to artists from Yuma, AZ. The flyer was asking for sculptures for a competition, the Yuma Fine Arts Council was holding. Their vision was to create an art district of "Old Town Yuma." At the time I was doing a series called "Industrial Movement." After researching the history of the town I discovered that the railroad played a significant part in Yuma's development. Knowing that, I acquired a large amount of railroad spikes which I used to form into my vision of the growth of Yuma.
I was fortunate enough to be chosen as one of the six artists whose sculptures were displayed. They erected pedestals around the downtown area on which to place the various sculptures. These works were to be displayed for a year.
At the end of that year Yuma expressed a desire to acquire my work "Spike." An agreement was struck and today my sculpture is on permanent display in Yuma, Arizona.
SPECIFICATIONS
Height: 7 feet
Width: 2 feet, 7 inches
Depth: 2 feet, 7 inches
MATERIALS
Welded railroad spikes, plow disc and antique truck rim
STATUS
Acquired by the ciy of Yuma, Arizona.
---
Click on any image below to see a larger overlay view of this sculpture.