Life's Journeys
Two Metal Sculptures by Gilbert McCann: Metal Artist
We are born without knowledge but quickly begin the learning process. As a newborn we recognize our parents and those who are most frequently around us. We learn how to get what we want by crying. As we grow our skills increase and soon we are walking and speaking. Of course, then we begin our formal education through attending schools. But beyond the formal education, much of our learning is through experiences. Some times the path is smooth and an easy downhill journey; other times it is uphill, pitted and you must struggle to climb.
The first sculpture, "Roads", is a depiction of what our life experiences might look like as we begin. All of the paths or roads are clean and new awaiting our travels. The stainless steel ball symbolizes the traveler embarking on the journey of life.
The second sculpture is a depiction of the traveler later in life. This individual has lived a while; has gained some knowledge, which pushes them onward traveling to the next experience in order to understand themself and the world in which they live. "Road to Knowledge" is constructed from bands of steel, taken from various antique industrial wagon wheels. These wheels are in keeping with the theme of a journey. The wheel symbolizes the traveler.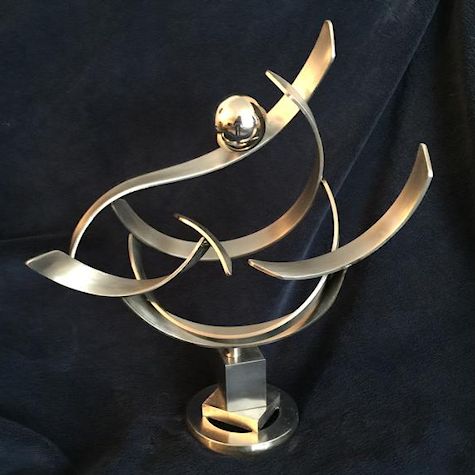 ROADS
SPECIFICATIONS
Height: 14 inches
Width: 12.5 inches
Depth: 5 inches
MATERIALS
Steel, stainless steel spheres, powder coat
STATUS
Available for purchase
---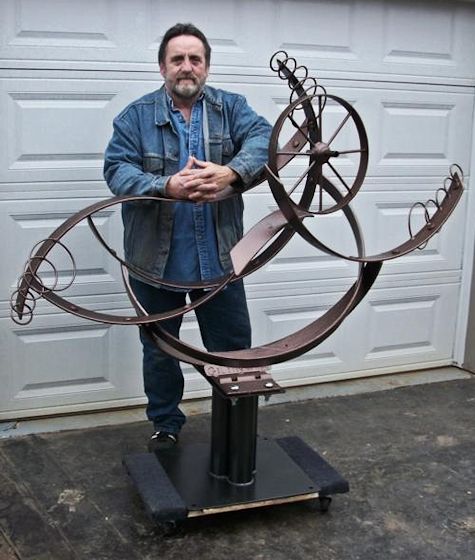 ROAD TO KNOWLEDGE
SPECIFICATIONS
Height: 63 inches
Width: 68 inches
Depth: 23 inches
MATERIALS
Steel
Sculpture: powder coated in copper vein
Stand: powder coated in midnight grey
STATUS
Available for purchase
---
Click on any image below to see a larger overlay view of this sculpture.