"pieces of my heART" metal sculpture series
By Gilbert McCann: Metal Artist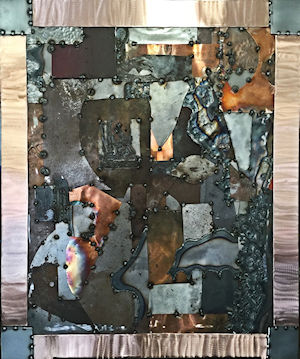 "pieces of my heART" grew out of a conversation I had with a friend who worked at the Greater Flint Arts Council, Lanie Nix. I had a successful showing of 16 pieces of my work in their gallery and had come to pick up the sculptures. I stopped in to the office to let them know I was done and to thank them for all of the help they had given me during the exhibit. Lanie was hard at work on a major project for GFAC, a city wide Festival of Quilts. Offhandedly, I mentioned that I had considered making a metal "quilt" someday. Well, for those of you who know the whirlwind of Lanie, you will understand how the next thing I knew I was creating this piece.
As a child I watched my mother use scraps from her sewing to create beautiful quilts. At that time, I did not realize that what my mother was creating was more than just a blanket to keep me warm at night. It was also art. I thought about mom while looking at my own collection of scraps. I realized how close the two forms of art actually coud be. It didn't take long for "pieces of my heART" to take shape and grow.
Upon completion, Lanie introduced me to the couple who own Knob Hill Bed and Breakfast, Diana Phillips and Allan Griggs. They had agreed to host one of the quilts for the festival. Knob Hill B&B is incredibly beautiful and Diana and Allan were delightful hosts. At the end of the festival they asked if they could continue to show my piece and other sculptures, too. I was delighted to do that. One of the greatest outcomes of showing in this festival is the new friends I have made.
Knob Hill is a 1926 colonial home in Flint located at 1105 South Dr, Flint, MI. Knob Hill is itself like a piece of art. I encourage you to check them out. I have lived in Flint much of my life and did not know about this "gem." It was from being displayed at Knob Hill that "pieces of my heART" found a permanent home in Dayton, Ohio.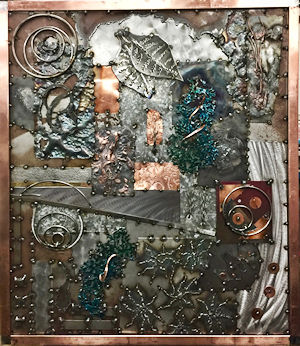 When it sold, Diana was really sad. She had come to enjoy seeing "pieces of my heART" daily in the breakfast room. Returning to my studio, I began looking at the many pieces of scraps I still had and I began to realize that this had been such a rewarding experience. There still were many more beautiful pieces to be created and I decided that this was a series I should continue. So "pieces of my heART" #2 was created and is now available.
SPECIFICATIONS
Height: 40 inches
Width: 30 inches
Depth: 0.5 inches
MATERIALS
Steel, copper and brass.
STATUS
"pieces of my heART" #1
Sold; in the collection of Dr Peter and Norma Lauf

"pieces of my heART" #2
Available for purchase
---
Click on any image below to see a larger overlay view of this sculpture.