The Tall Men Series
A series of tall sculptures by Gilbert McCann: Metal Artist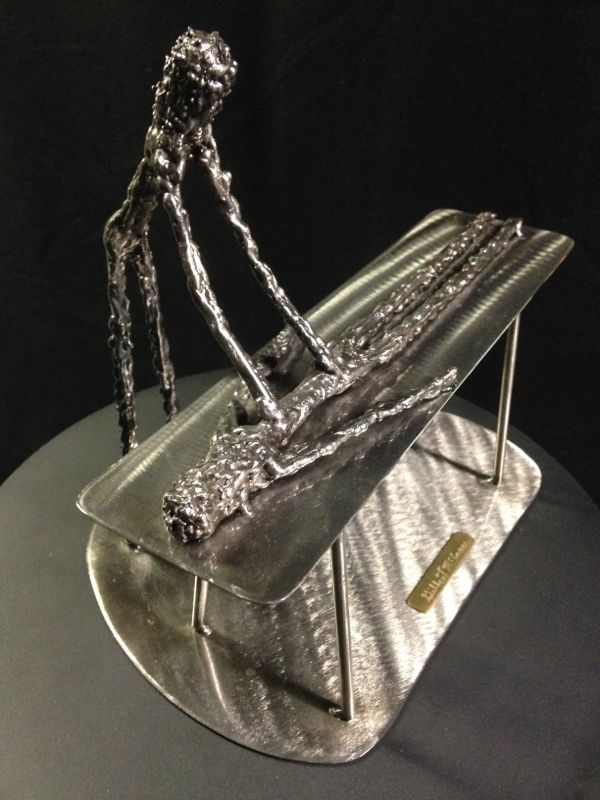 THE CHIROPRACTOR
The first piece I created in this series is 'THE CHIROPRACTOR." One of the biggest supporters of my work is Robert Goeckel, D.C. Once during a visit he said he'd really like to own a piece of my work. So I decide that I would create for him a sculpture of himself at work. This piece shows Dr. Bob doing what he is so good at, helping to heal his patients' bodies.
SPECIFICATIONS
Height: 11.5 inches
Width: 12.5 inches
Depth: 8.5 inches
MATERIALS
Steel plate, Steel rod, Weld, Clear Powder Coat.
STATUS:
Sold; in the collection of Robert Goeckel, D.C.
---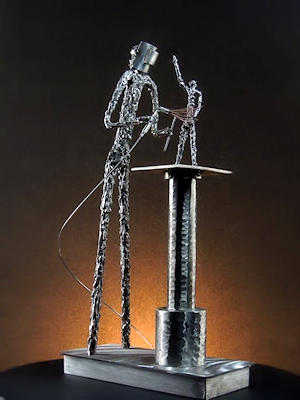 SELF PORTRAIT
My "SELF PORTRAIT" depicts me when I am at my happiest. Over the years I have worked many jobs. And that is just what they were JOBS. Awhile back I was working at my business, Thumper's Custom Motorcycles and Hot Rods. I was very restless and bored with my life. I decided to go back to college and improve myself as a means to once again be able to enjoy what I was doing. I got a catalog from a local community college and was looking through it. I turned the page and saw a course in Art Welding. I decided to try this out and suddenly I was renewed. While taking this course I became convinced that I had the right skills. I was just using them in the wrong way. Gilbert McCann, welder became Gilbert McCann, Metal Artist.
While doing one of my sculptures for my Tall Men series, that I was going to call "The Welder", I realized I was creating a piece that essentally was me creating another piece for my series. It was then that "SELF PORTRAIT" was born.
SPECIFICATIONS
Height: 17 inches
Width: 13 inches
Depth: 5 inches
MATERIALS
Steel plate, Steel rod, Weld, Diamond cut round stock, Copper and aluminum wire, Clear Powder Coat.
STATUS:
Available for purchase
---
Click on any image below to see a larger overlay view of these sculptures.