"Victory" metal sculpture
By Gilbert McCann: Metal Sculptor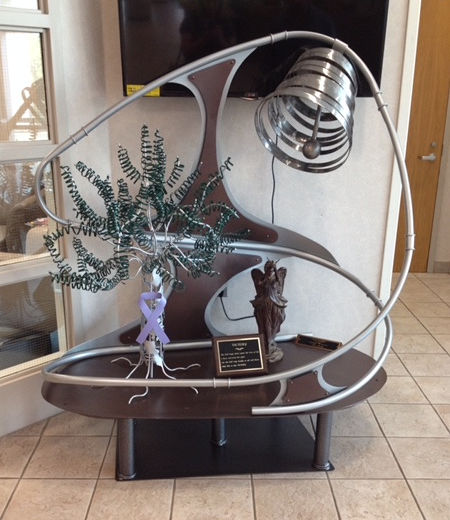 VICTORY was my first commission for Dr Douglas Iddings, a surgical oncologist at the Genesys Hurley Cancer Institute, Flint, Michigan. It was presented December 2013 at party held each Christmas for all of his patients.
Dr Iddings has a ritual for his patients when they are declared "cancer free." It involves ringing a large brass ship's bell, in his office, to signify victory. He requested that the piece include a stylized bell and something to signify life. Along with the sculpture I created a poem to describe the piece. It follows:
The bell rings down upon the tree of life.
I have survived the fight.
Let the bell ring loudly so all will know that this is my VICTORY.
SPECIFICATIONS
60 inches tall with the attached stand, 48 inches wide and 24 inches deep: powder coated steel
PRICE
It is on display in Dr. Iddings' office at the Genesys, Hurley Cancer Institute, Kensington Avenue, Flint, Michigan.
---
Click on any image below to see a larger overlay view of this sculpture.