BIRTH OF AN IDEA
A Metal Sculpture by Gilbert McCann: Metal Artist
Click on any image below to see a larger overlay view of this sculpture.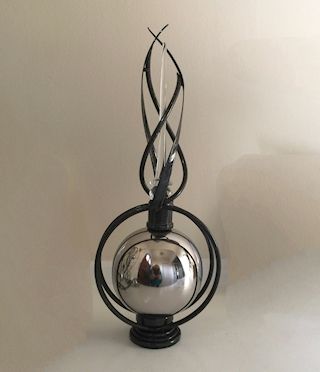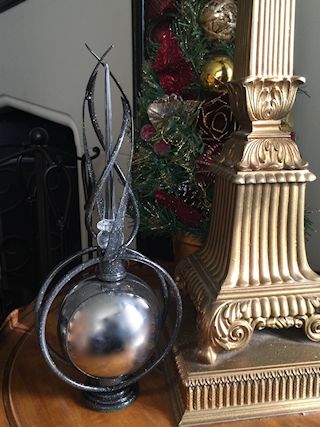 About This Sculpture
There's an unmistakable feeling of excitement. Getting to this point took planning. It took patience. And at times, it was painful. I introduce you to "The Birth of an Idea." The process of bringing a sculpture into the world is a lot like having a baby. First, there's conception. Some pieces happen easily; others take a lot of trial and error. Upon starting, I brainstorm many ideas. Once an embryo of an idea is planted it takes time to grow. During this time, the planning begins. What materials best fit the idea? What colors should I use? How large will I make the piece? Also, during this time you need some way to refer to this new sculpture. The naming process comes with challenges of its own. But it is important to get it right. With this piece I realized I wanted its name to reflect the process of developing a sculpture. Now we have a name and the physical work begins. Metal and I are old friends. And yet there is always a newness to each project. And just like babies, new ideas are vulnerable. They need constant nurturing to grow.
Actually seeing the birth of your piece is an exciting time. And with this I am humbled and grateful for the skills that were given to me.
SPECIFICATIONS
Height: 12 inches
Width: 5 inches
Depth: 5 inches
MATERIALS
Steel rod, stainless steel sphere, crystal, steel disks, powder coating.
STATUS
Available for purchase
---