"MIDNIGHT and FROZEN CORAL"
METAL SCULPTURES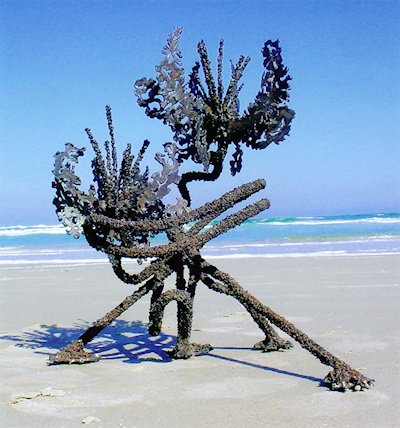 While in Arizona I had reached a point where I knew it was time for a change in my life. Because my hot rod and motorcycle shop had become quite successful, it dominated my whole life and left little or no time for myself.
I needed a distraction from the everyday trials of work, work, work. I decided to improve my welding skills by seeing what my local college had to offer. I was browsing the catalog of class offerings and discovered an art welding program was available. I thought, "Why not?" and my new passion was born.
"Midnight Coral" was my very first assignment. The assignment was to create a sculpture from five or more repetitive shapes. It could be as simple as five triangles welded together. I chose not to just work with a simple geometric shape. I let my imagination guide me and "Midnight Coral" was born.
It was at this point I realized that sculpture was going to be an important piece of my life. A little voice in my head said, "You have the right skills, but the wrong occupation." Shortly after this I closed the shop and I have never looked back.
One of my methods upon finishing a piece is to try to find the next logical configuration. I decided that this would be a series of two - one dark, one light. "Frozen Coral was born. I have plans for a third coral piece which will be somewhere around six or seven feet tall. My working title for this piece is "The Reef".
SPECIFICATIONS
Midnight Coral:
Height: 4 feet
Width: 4 feet
Depth: 3 feet
Frozen Coral:
Height: 2 feet
Width: 2 feet
Depth: 1.5 feet
MATERIALS
Both sculptures: Sheet metal and round stock
STATUS
Both sculptures: Sold
---
Click on any image below to see a larger overlay view of this sculpture.