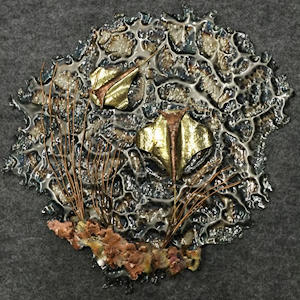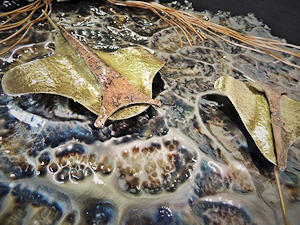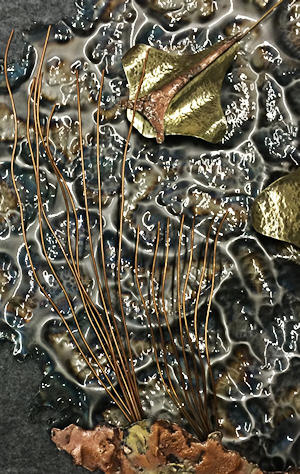 About This Sculpture
Two of the places I have lived, that I really enjoyed, were the desert of Arizona and the Atlantic coastline of Florida. It is the second that is the inspiration for my piece OCEANIC. The meaning of the word oceanic is "of or relating to the ocean." Oceans contain the greatest diversity of life on Earth. There are many types of animals and plants that make the ocean their home. Oceans supply fish and other seafood that forms a major source of protein for a billion people. Humans rely on the oceans for their important natural resources. Oceans also provide seaweed and other marine plants that manufacture food and homes for some of the inhabitants and oxygen, medicines and food for humans. My oceanic habitat is home to two types of marine life: the stingray and seagrasses.
OCEANIC is a wallpiece. No paint was used for this sculpture other than the clearcoat applied to protect it. Applying different amount of heat at different temperatures will produce many colors on metal. The steel and copper in this piece are the metals I chose to use with this heat technique. So OCEANIC has actually been "painted" using heat from the torch only. You can see the copper in the back plates of the stingrays; in the coral reef; and also in the sea grasses. The bodies of the stingrays are brass.
SPECIFICATIONS
Height: 22 inches
Width: 23 inches
Depth: 1 inch
MATERIALS
Steel sheet metal, Brass, Copper, Clear Powder Coat.
STATUS
Available for purchase