Designs By Gilbert McCann: Metal Artist
Click on the images below to view a larger copy in greater detail. Click away to close the image.
Enjoy!
Gate Project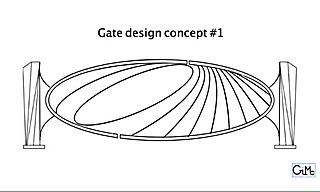 Gate #1
When we first met with the client on this project, he told me he did not want a gate that was symmetrical, something that could be bought at Home Depot. It is because of this that you will see most of the gates open off center and the two sides of the gate definitely are not the same.
I find this design very pleasing to the eye. This gate could be created from rod, given it a very open and welcome feeling. Or it could be filled in with sheet metal panels alternating with open areas. This would provide more privacy while still maintaining the integrity of the design.
---

Gate #2
This gate is a second design using the same oval shape, same gate opening, and the same posts as gate #1. See if you can determine how this gate looks when open. You will notice the ovals reflect the shape of the gate, which I feel blends well and unifies the design.
---

Gate #3
Although this gate employs a traditional shape (rectangle) it also uses the pop art feel of the 50s and 60s. As in gate #1 you could use a combination of rod and sheet metal.
---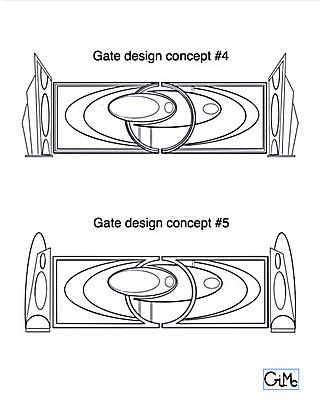 Gates #4 & 5
These gates are very similar. They both are designed with a space or galaxy feel to them. They both open in the same manner. There are subtle differences between the two gates. But the main difference is in the design of the posts.
---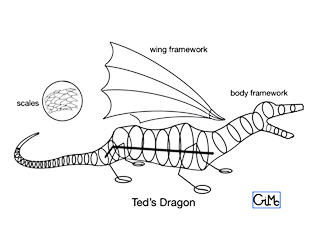 Ted's Dragon
This design was requested by a gentleman who lives south of Fenton on Lake Shannon. In his yard is a beautiful Japanese Tranquility Garden. He requested that I create a mythical dragon that would sit at the entrance to this garden. The purpose of this dragon is to remove, from a visitor, any negative thoughts or feelings so that they can visit the garden and enjoy its beauty and tranquility. Ted's Dragon is made from steel rod and sheet metal. It is 8 feet long, 4.5 feet wide and 3 feet tall. He requested that it not be painted because he wanted it to rust the deep rich russet coloring. Today the dragon has changed its color and is successfully working at the task she was created for.
See more details and photos of Ted's Dragon, here.
---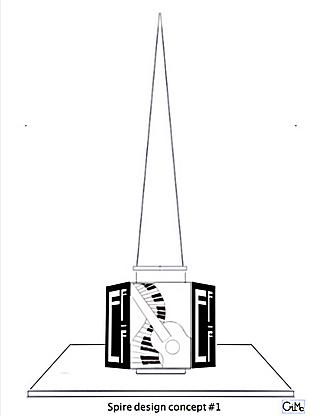 Spire #1
This project was for a foundation here in Flint, MI. A couple, wanting to help young children and their families purchased a church on the south side of Flint. Their mission was to give the neighborhood children educational, interesting activities. They wanted to provide music, dance, and art. They also wanted to be able to help children having problems in school. I was contacted and asked about designing something for the spire of the former church that would advertise their mission.
This first design shows the spire wrapped by alternating panels, every other one showing an activity that would be occurring. In between would be light boxes with their logo. This panel was to show that they would be providing a variety of instrumental and voice music lessons.
---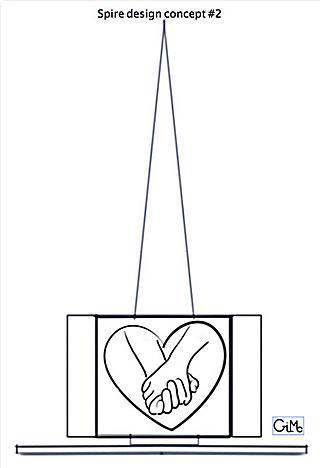 Spire #2
The panel on drawing #2 was to depict the importance of friendship and caring for one another.
---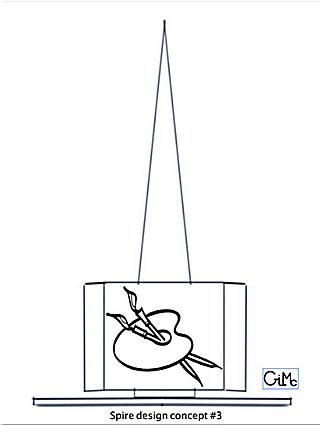 Spire #3
The third panel drawing shows that visual arts were also planned for the children and the neighborhood.
---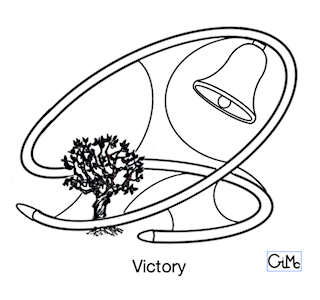 Victory
This design was done for my wife's oncologist, Dr Iddings. He requested that I create for him a sculpture that represented winning the battle against the disease of cancer. The tree represents life and the bell is what is rung in his office when a patient is declared "cancer-free." The major difference between my design drawing and the real sculpture is in the design of the bell. He wanted the bell to be "broken" by the many times it has been stuck (rung) over the years. Click here to see this sculpture in its portfolio page.
---